There were some problems but I still enjoyed my second trip to China and in hindsight I should have planned things differently. My observations are hopefully looked upon as useful information for other travellers.
Recently I visited China using the 144 hour transit with no visa allowed if landing at Shanghai Pudong, Nanjing Lukou or Zhjiang Hangzhou airports. You can arrive or leave at any of these airports and travel in those three regions only. The rules are that you must fly in from country one, in my case South Korea and fly to a different country afterwards and I went to Thailand. The 144 hours starts at midnight after you arrive and you must leave before the 144 hours deadline after that time. I arrived in Nanjing on Tuesday April 11 and left from Shanghai on Monday April 17th . My advise is to arrive at Shanghai Pudong where they are more familiar with visa free processes or just get a visa to save a lot of stress and waiting time. Some of the airport staff at my airline at Seoul Incheon and immigration at Nanjing Lukou were mostly clueless about the 144 hour visa free process. A few times I thought I could have my plans for the next six days cancelled or changed.
I wanted to arrive in Nanjing mid week to visit the Memorial of the Nanjing Massacre, Purple Mountain and a promised meeting with a stunning Chinese twink that I have been chatting with for months. I succeeded with the first two but the stunner got a bit nervous about meeting a foreigner for the first time so I was very disappointed with his no show. I also wanted to spend the weekend in Shanghai with another friend that I met on my last visit there in 2016. That worked out very well, a great guy in every way and very happy to meet him again.
My travel problems started at the check in desk at Asiana Airlines at Seoul Incheon airport. I advised the lady that I would be travelling with no visa using the 144 hour visa free process. "Sorry sir, you have no visa, we cannot let you check in. Only 24 hour transit allowed in Nanjing." Fortunately I had done my research and had all the paperwork about my flights, accommodation and the visa free rules with me. I asked her to call a manager to discuss the issue. Twenty minutes later a manger who spoke very good English arrived and said she would call Nanjing Lukou airport to check if I could travel. Thirty minutes later the manager returned and said "OK we will check you in". I allowed four hours to get to Incheon airport and time for processing. Just as well as it takes eighty minutes on the bus to the airport and I just lost another fifty minutes checking in. There is a fast train to the airport but that meant getting a taxi to Seoul station or climbing stairs at the metro station with my luggage. The airport bus is more convenient and stopped on the main road near my hotel and only cost 10000 Won ($AU11).
I went directly to immigration and a departure stamp was soon in my passport, no problem there. It was time to board my flight and the girl looked at my passport and said "Where is your visa sir? You cannot fly without a visa." Now with all the typing that I saw going into the computer at check in wouldn't you think they would have put in a message that it was ok for me to travel and alert the staff at the departure gate? Oh silly me, another call to management and I was wondering whether I should have ever made this plan which should be a straight forward process. Ten minutes later and I went from the first few to last to board the plane after getting another ok to travel. Ah success, all is good, I can relax. Not yet.
I could not have taken another airline as Korean Asiana was the only flight from Seoul Incheon to Nanjing Lukuo on that day. If I had my time again I would have landed at Shanghai but I probably will use a visa in any case next time to save all the time lost and stress at check in etc.
When we arrived at Nanjing I walked out the plane exit door to see a Asiana Airlines staff member with a sign with my name on it in large letters. Oh, what is next, maybe a free limo to my hotel for the problems at Incheon? After a brief welcome to Nanjing he said "Have you filled out this form already sir?" What form could that be I thought? No mention of any extra forms in my research. Apparently the check in staff should have given me the form in Seoul. The form was titled "Application form of alien's temporary entry permit". So he led me to a desk near immigration and I filled out the form and then he stayed with me while I lined up at immigration. There was only my flight from Incheon to process and there was a desk that had a 144 hour visa free sign above it but no staff manning that station. Everyone else had already gone to pick up their luggage so I was taken to the main desk where the female officer looked at my permit form with a blank look and asked the officer sitting next to her for advise. Soon there was a call to a supervisor and another twenty minute wait for further information. She then checked all my documentation and found a small 144 hour visa free sticker which she marked with arrival and exit dates to paste into my passport.
Then there was a few questions about why I was visiting Nanjing. I just said "Museum and Nanjing Memorial" and they understood. Suddenly another officer arrived and whisked all my paperwork off to another office. After twenty five minutes I asked what was going on? The Asiana Airline officer said "go through Shanghai next time, they have better systems in place". Then a voice from the main desk advised me that "We are doing a police check now sir. Wait." Oh maybe because I was travelling on to Thailand they needed to check that I was not an international criminal transiting through China. Another twenty five minutes later and my passport returned. I was totally exhausted after waking at 400 am to catch the early flight from Seoul. It was 4.54pm Nanjing time when I left the airport after collecting my luggage which was being guarded by airport staff. The Asiana Airline officer at Nanjing Lukuo airport stayed with me for the entire time till I was given the go ahead to leave the airport. It was a bit of an ideal which I am in no hurry to repeat. It would be great if the airlines educated their check in and other staff about the visa free availability and process. The Asiana staff were polite and helpful although some training is needed about the current visa free regulations for China.
Nanjing has a very modern subway system with a train from the airport to the South Station. The cost from the airport to the station near my hotel was 7 RMB in total. If you have heavy luggage be warned that in some exits there are no upward escalators so you will need to use the stairs. Because of an early flight to my next destination Shanghai I needed to use a taxi to the airport and that cost 193 RMB ($AU37). Most metro trips for sightseeing cost between 2 - 4 RMB, less than $AU1.
I stayed at the Crowne Plaza Hotel and Suites which has an excellent location near the down town Xinjiekou metro station and adjacent to a shopping mall with food court and restaurants. The city view on the 47th floor was excellent but the bed was too firm for me and the air conditioning and refrigerator were not working properly. I would stay there again just for the location and hopefully they can get their room maintenance in order. I wish hotels would put some noise dampening on those heavy entrance doors that would wake the dead when people slam them shut late at night.
For mobile internet and calls in China I use a sim card from http://www.3gsolutions.com.cn which is purchased online and delivered to my hotel prior to arrival. I have used this service twice with automatic set-up and fast internet for the duration of my trip. A Virtual Private Network is needed if you want to get behind the internet blocking of Face book, Google etc in China. I use https://www.goldenfrog.com/vyprvpn which has worked ok for me so far. Most reviews promote https://www.expressvpn.com as the best and fastest VPN for China but was considerably more expensive when I purchased Vyper.
Memorial of the Nanjing Massacre
All the places I visited in Nanjing were easily accessible by the metro. I arrived at the Memorial of the Nanjing Massacre Memorial on Wednesday morning thirty minutes before opening time at 830am to be greeted by the sight of at least two hundred school kids and many tour groups waiting for entry. I actually thought it might be a quiet day mid week but then again this is China with it's huge population and many retires like me out seeing the sights. I chatted with a teenage girl and boy couple in the line and they gave me a Chinese flag which I later placed at one of the memorial stones in the gardens after the exit from the memorial building. There was no pushing, little queue jumping and after opening time the crowd flowed quickly and quietly into the building. I have never seen so many Chinese in groups being so relatively quiet and respectful. Just about everything in the memorial has an English description and it is a credit to those who set up all the displays. There are some photos and videos of the harsh treatment and murder of at least 300000 the local population and military in only six weeks back in 1937. There is a large section to honour the foreigners who risked their own safety to set up safe zones and saved many thousands of lives at that time.
The long queue to enter the memorial before opening time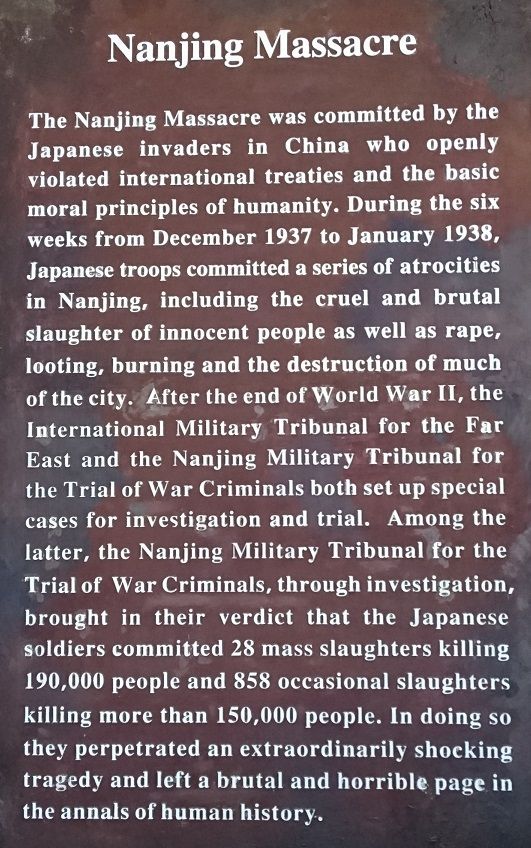 Inside the memorial building.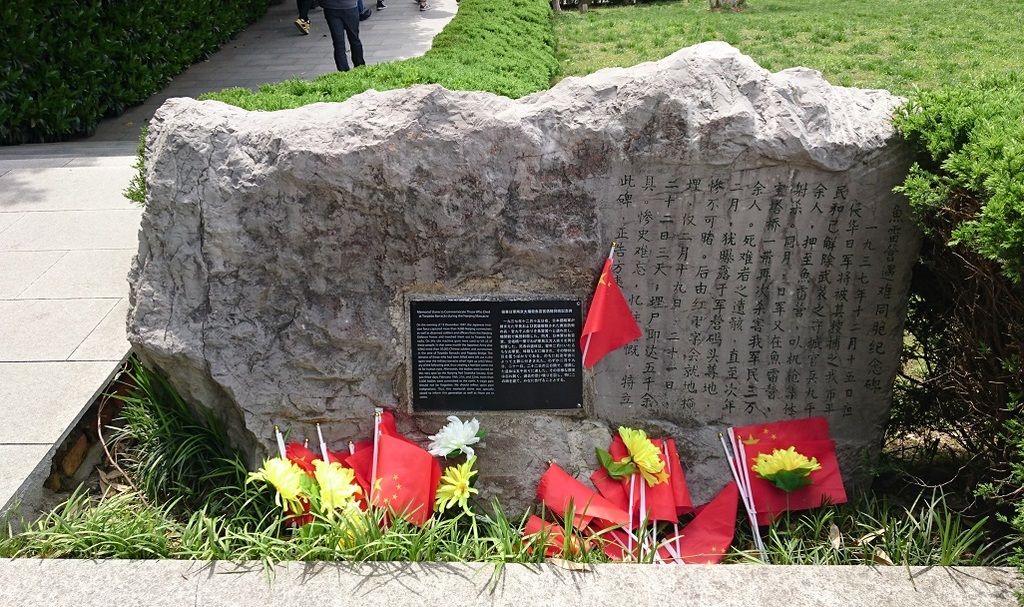 One of many memorial stones for the various massacre sites
Xuanwu Lake
Xuanwu Lake and park is very close to Xuanwumen metro station and was well worth a late afternoon and sunset visit. Everything was very tidy and well laid out with some smaller lakes and islands inside the park. There is even a McDonalds restaurant with great views over the lake located within the park.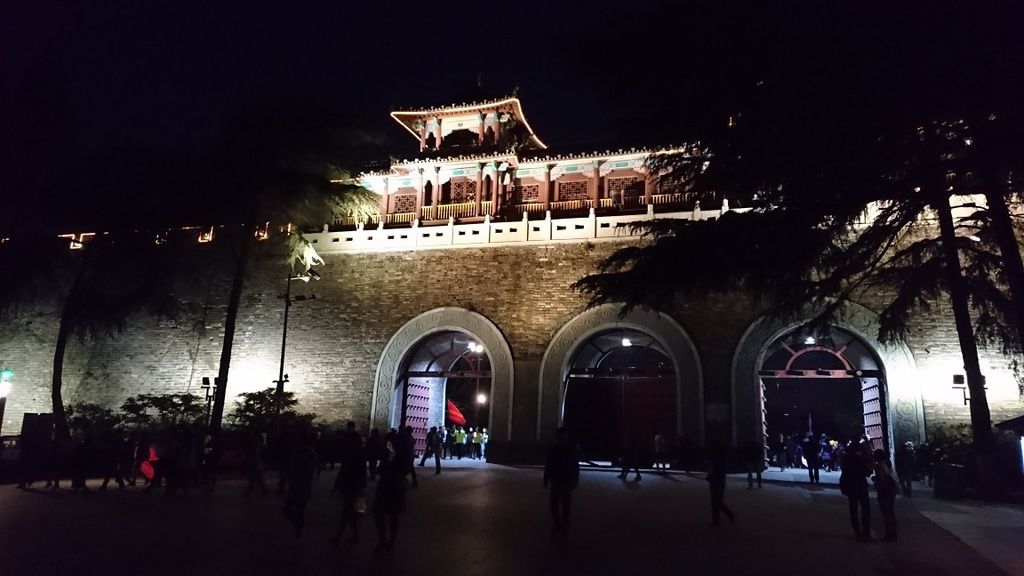 Entry gate to the lake and city wall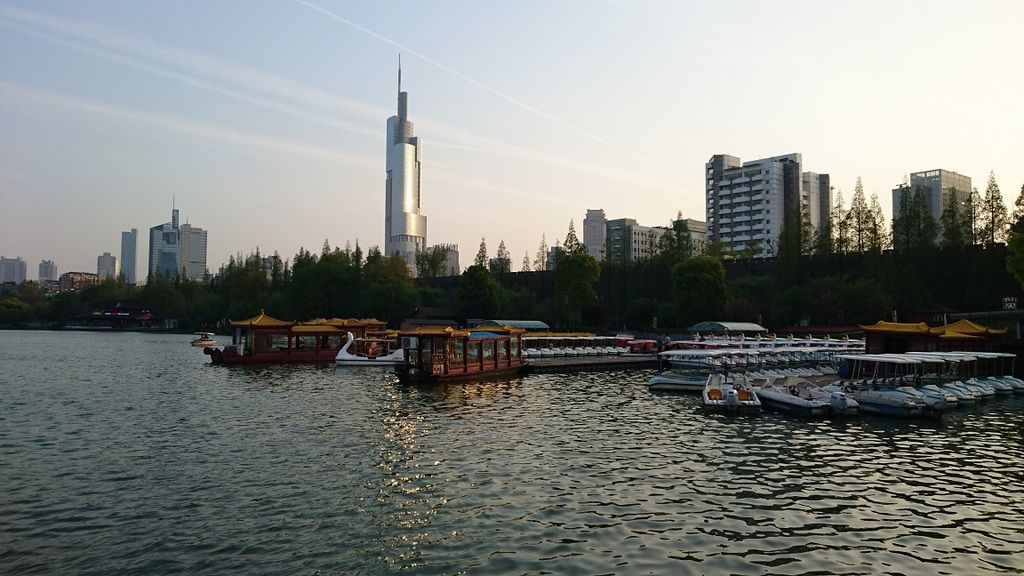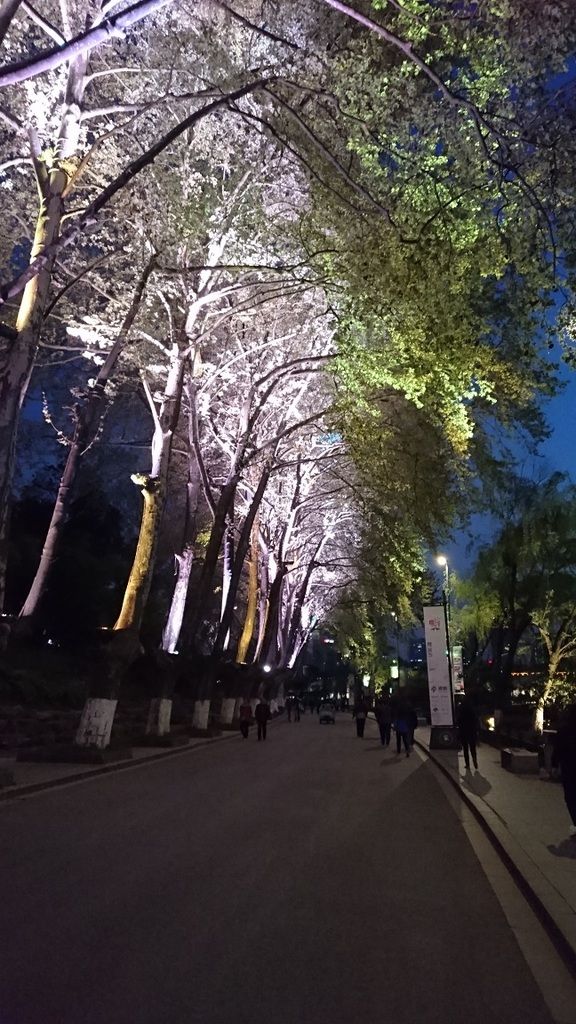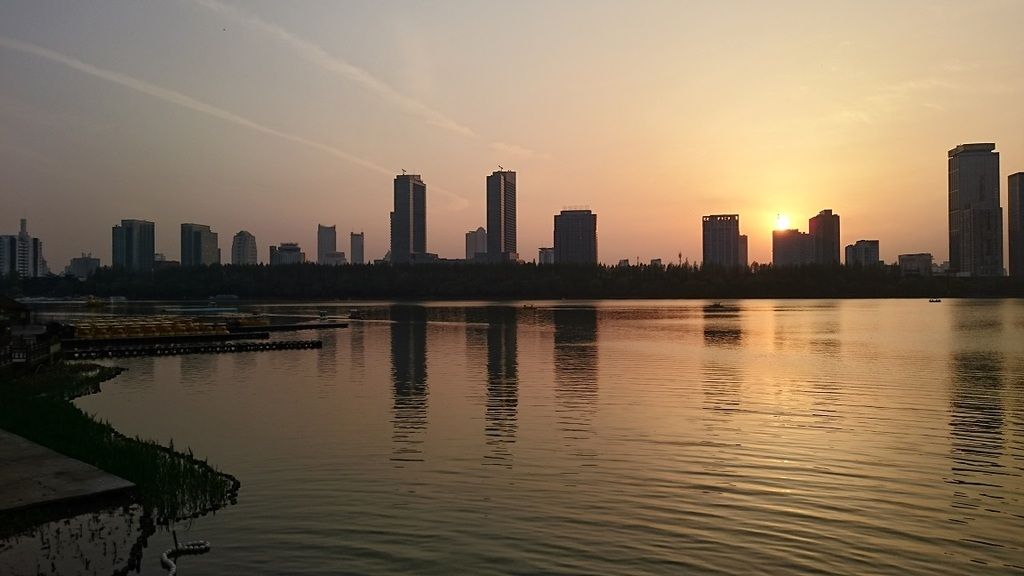 Purple Mountain (Zijin Shan)
The Sun Yat Sen Mausoleum is at the top of 392 steps at the so called Purple Mountain. I caught the metro to Muxuyuan station and there were shuttle buses available nearby exit 2 for 10RMB each way to the entrance. There was no entry fee. The steps are not too difficult and it was well worth the effort because the views at the top over Nanjing are excellent even with the persistent haze in the distance. Again there was no pushing or any bad behaviour from the tour groups. In fact people were very good natured and friendly. I only saw one other foreigner there besides myself and the hundreds of Chinese.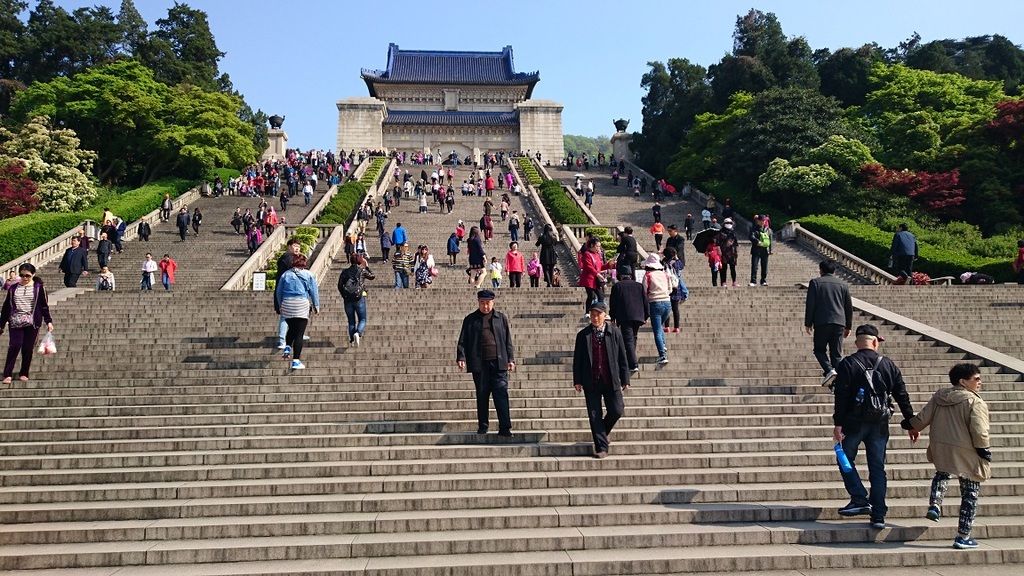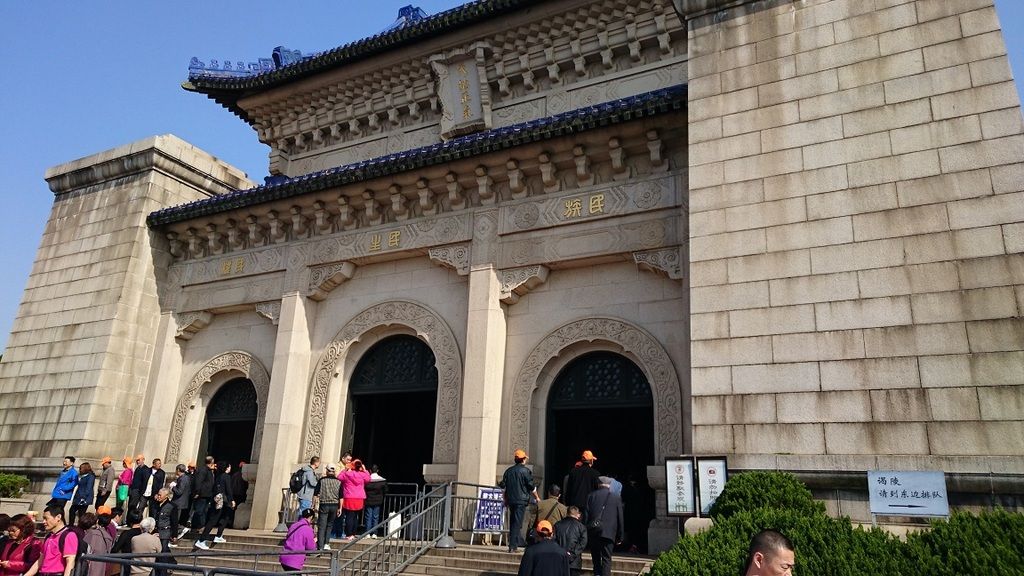 The mausoleum building.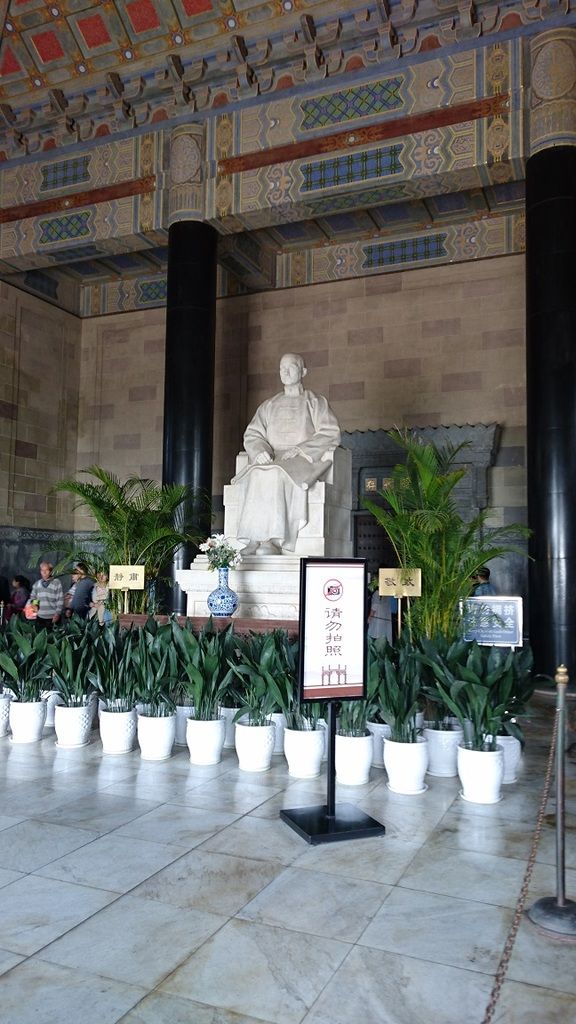 Inside the mausoleum. The door to the coffin area was locked. Lots of older Chinese were bowing reverently to the statue.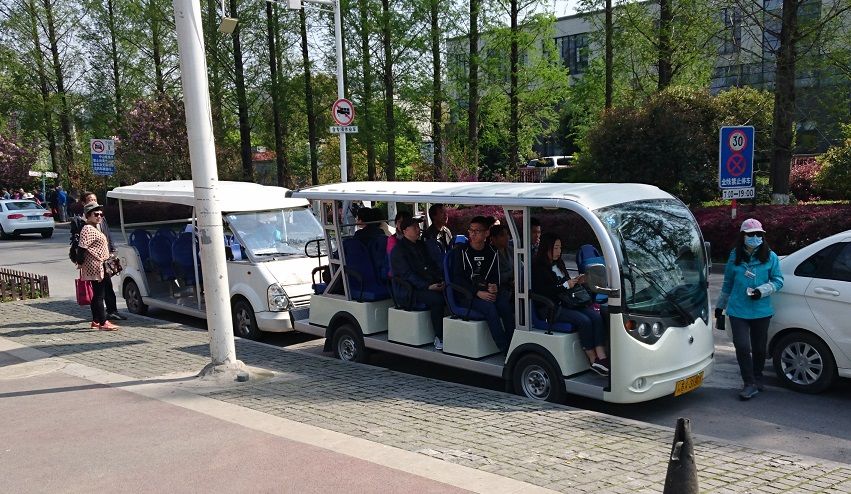 Shuttle buses. There are a few stops but most people got off to visit the mausoleum. I had Sun Yat Sen Mausoleum written in Chinese to show the driver but it probably was not necessary.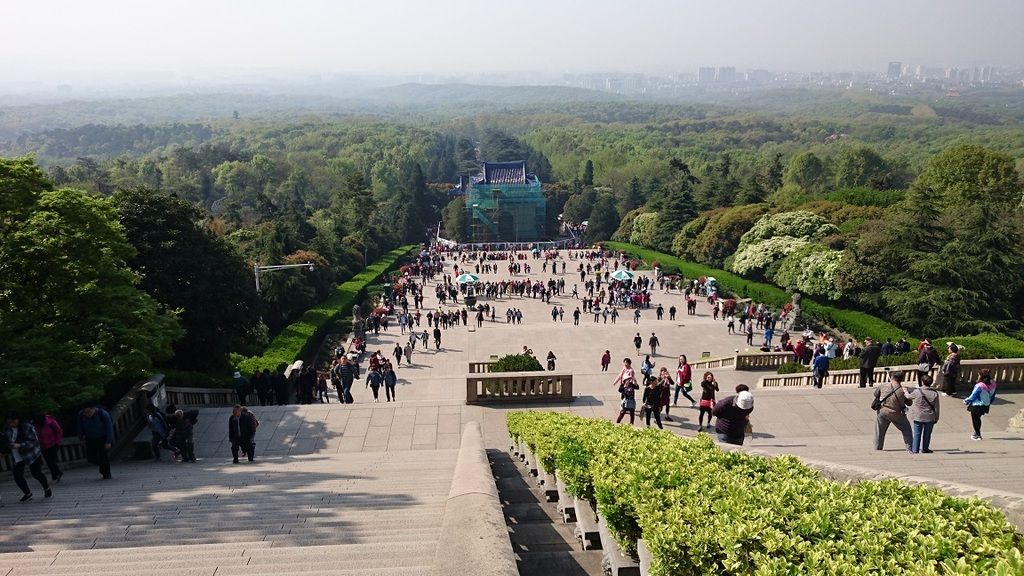 View from the top.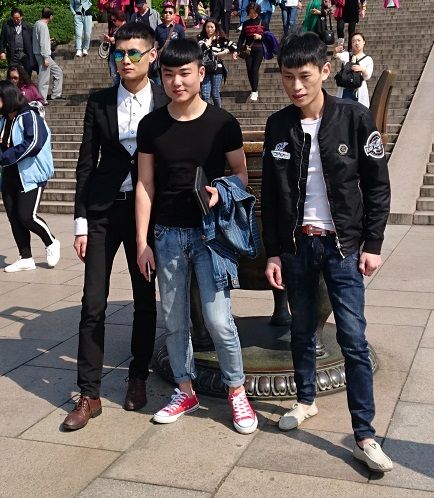 A better view near the bottom.
Confucian Temple Area (Fuzi Miao)
A bit of a tourist trap but I spent a couple of hours looking around and the temple itself was quite peaceful and I sat there resting on a seat in the spring sunshine. There was plenty of inexpensive food available and again there was a metro station nearby.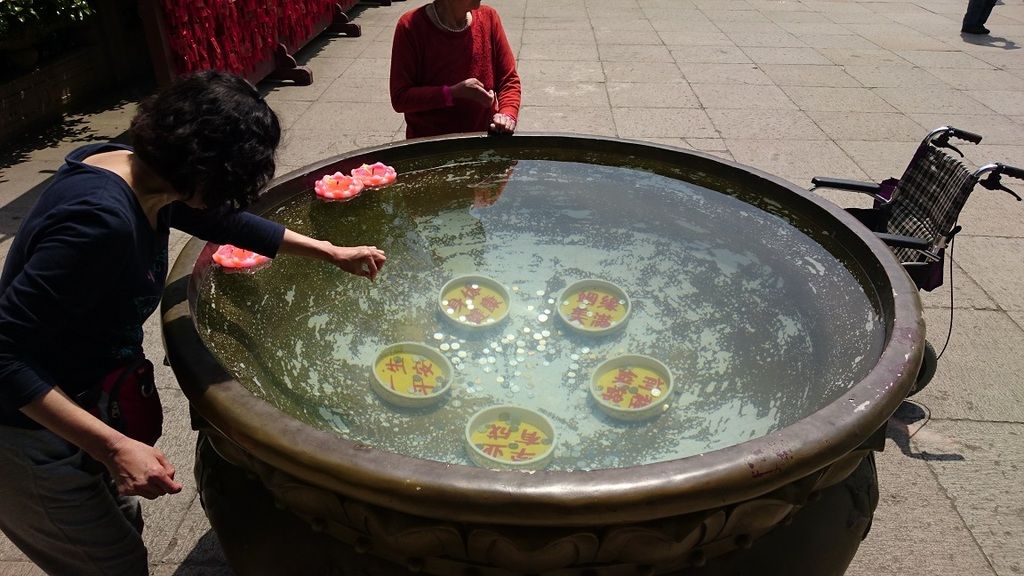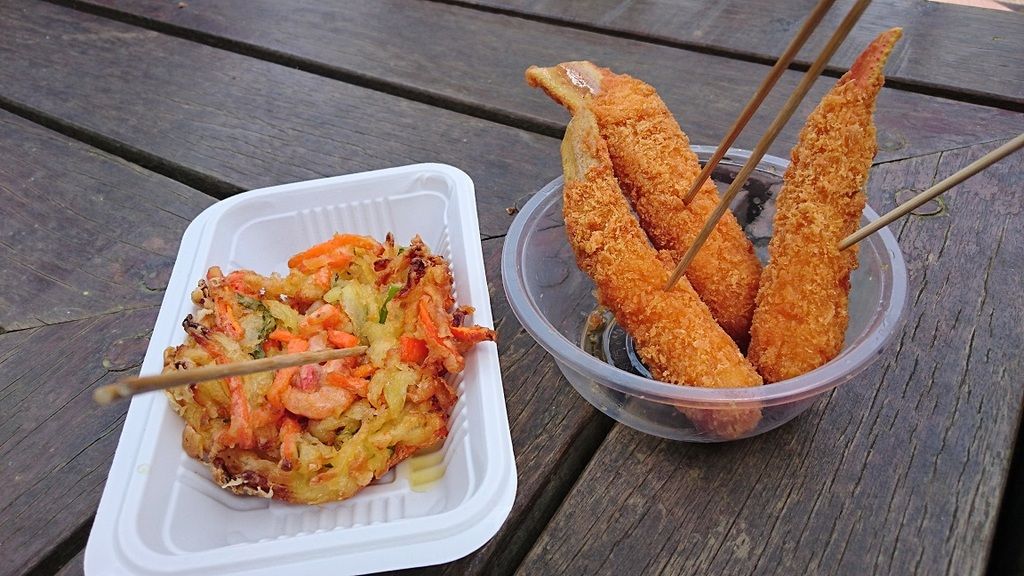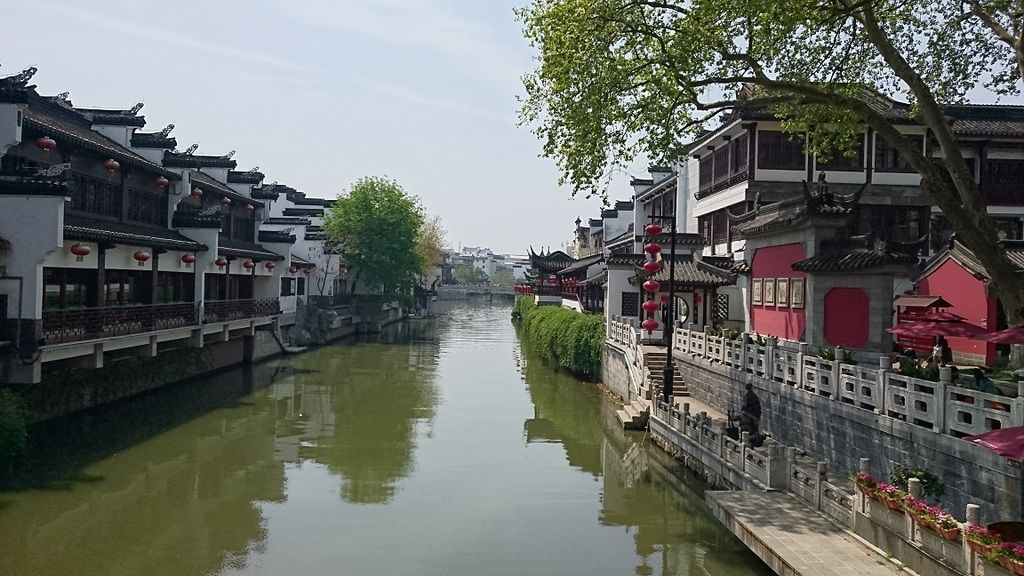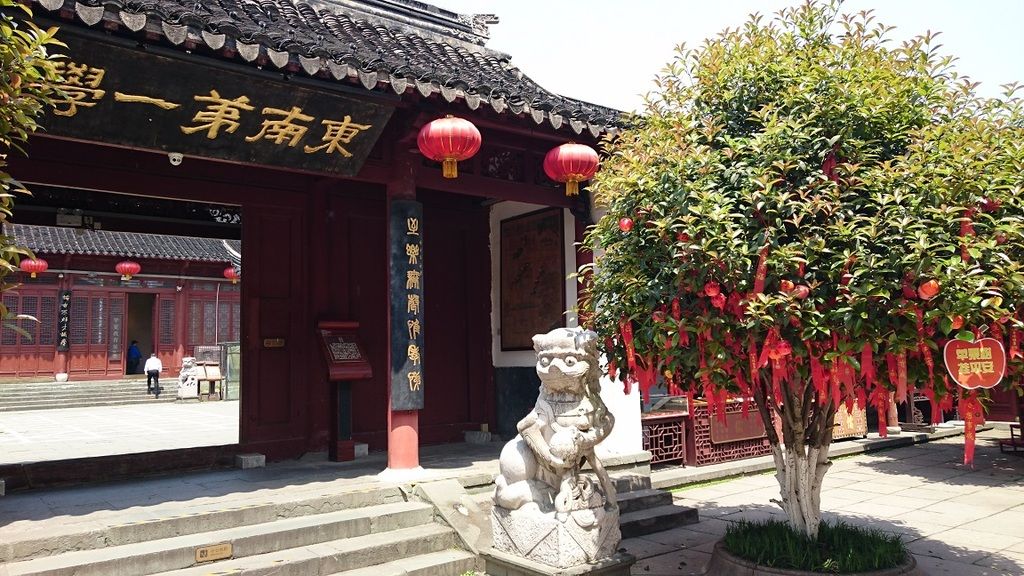 John Rebe House
As a member of the Nazi party John Rebe used his influence to set up a safe zone to protect many people from the Japanese who were on a murderous rampage in 1937. The house was closed today so I could just look around outside. Rebe is a hero to the people of Nanjing with statues erected at his house and at the Nanjing Massacre Memorial Hall.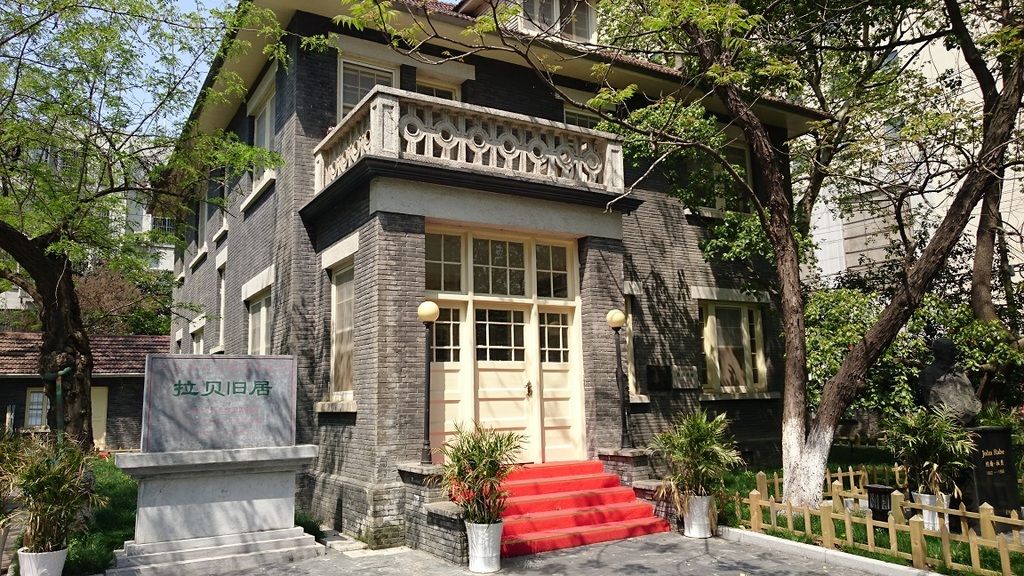 The city centre near the Crowne Plaza Hotel.
Meeting the local guys
I spent most of my two full days sightseeing so only had time for one date in Nanjing. The guy I had been chatting with for months got a bit nervous about trying a foreigner's size cock and he said so. I have seen many large Asian cocks so i never really understand that excuse. I would have been happy with dinner together and some light fun if it came to that but not to be. The other guy was 21yo and turned up in a suit after leaving work early from his intern ship so that we could meet. He was very nervous as I was his first time with a foreigner but he warmed up quickly to the task and even gave me some sightseeing hints afterward. No fee for service expected from any guys that I have met in two trips to China.
I was offered some threesomes and missed out on some good looking guys because I was out sightseeing. If you like average build guys you could spend most of your time on dates in China. They do not read your profile and send messages in the hope of meeting a foreigner. I like twinks or slim guys 18 – 30yo so in a generally non money boy society it is fortunate there are enough guys available who like to meet an older foreigner. There are plenty who state "only same age", 'no uncle" or one guy had 'no old age pensioner' lol. I have been travelling full time for nearly three years so quite happy to make my sightseeing the priority and any meets a bonus in my free time. I have met many guys throughout Asia in that time and some have become good friends so my free time has been well used.
I found Nanjing to be a very pleasant city to visit for a few days. No scams and nobody bothered me like in the tourist areas of Shanghai and Beijing. In general people were very friendly and some helped me in the subway and other places.
More about Shanghai later.....