From Bloomberg News
Focus instead is on boosting daily spending and length of stay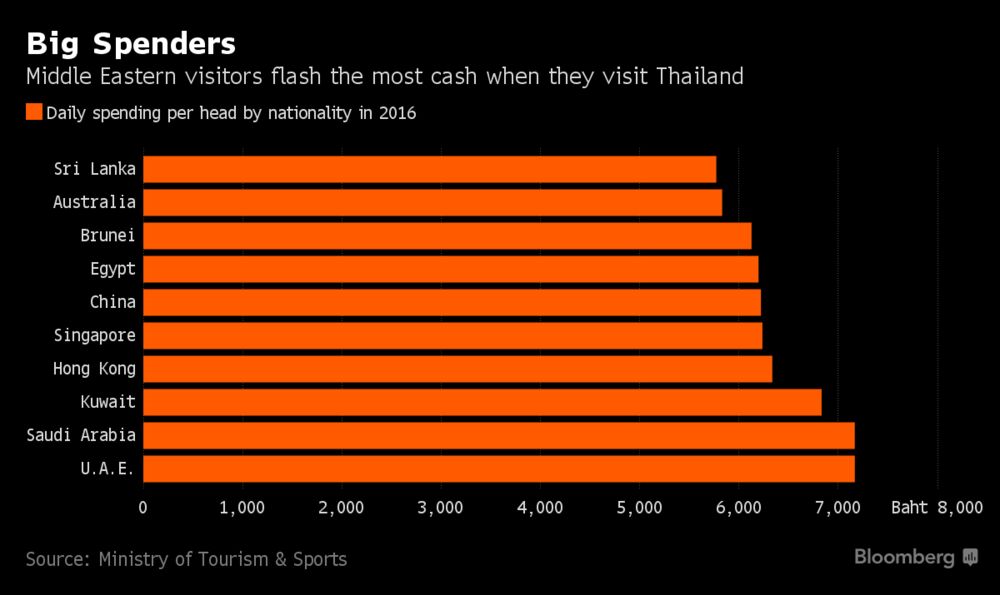 Thailand is now so popular for holidays that almost 35 million foreign tourists -- equivalent to half the country's population -- are expected this year.
As the influx gets harder to manage, the government is shifting strategy. It's now targeting a minimum increase in tourism revenue of about 5 percent annually instead of a particular number of visitors, Tourism Minister Kobkarn Wattanavrangkul said. That means encouraging longer stays and higher daily spending, a mix the typical Australian holidaymaker exemplifies, she said.
"Maybe they're the ones who are like: this is my time -- I eat, I shop, and I eat, and I shop," Kobkarn, 56, said in an interview.
Australian visitors were among the top 10 biggest spenders in terms of per capita daily expenditure last year, forking out 5,831 baht ($172), Tourism Ministry data shows. Their average length of stay of almost 14 days was the highest in that group. Some nationalities take even longer holidays but tend to be more parsimonious. British tourists, for instance, stayed for just over 18 days on average while spending 4,376 baht daily.
"We no longer have a target for number of tourists," she said. "We shouldn't go beyond the limit that we can cope. But there's no statistic on that yet. When people say that Phuket may be too crowded, or Bangkok is too crowded, we have to make sure that we are introducing new destinations too."
Arrivals from overseas more than doubled in the past decade, powered by a surge in Chinese holidaymakers who contributed 28 percent of 1.6 trillion baht in foreign tourism receipts in 2016.
Quality doesn't just mean targeting wealthy tourists as Thailand needs travelers on a variety of budgets, Kobkarn said. Instead, it refers to offering good value experiences that encourage return visits, increase the average length of stay and bolster daily spending per head, she said.
Even as Kobkarn tries to focus on revenue targets rather than visitor numbers, arrivals are projected to climb, whether drawn by the allure of white-sand beaches in resorts such as Krabi, the gastronomic delights of Bangkok or the perennially notorious sex capital Pattaya.
https://www.bloomber...egy-for-tourism