Thank you Mack...
for your posting gaybuttonthai.com
gaybuttonthai.com • Index page
I noted with much interest Mack that you have a Blog...
and what a good find it is!
and..your links to other Blogs and Websites is wonderful
and most helpful..Thank You!
Shameless Mack
Shamelessmack in Thailand and around
There are many good stories you have shared...
I especially liked this one about a Massage House in ChiangMai..
Despite the muddy mess
July 26, 2010 at 00:05 | Posted in Gay Chiang Mai, M2M massage, Mack's reports | 3 Comments
Tags: Riverhouse Massage Cnx
Despite the Muddy Mess....
http://shamelessmack...mess/#more-4677
..."On arrival at about 17:40h, I was greeted by Tommy, who showed me their photo album featuring fifteen guys. Only seven were said to be available at that moment.
Were the other eight were busy with clients? No, there was no other client.
They were not working that day.
None of the available seven stood out, so I said to Tommy even though he was a
little too slim for my taste: "Why don't you do the massage, then?"
Of course, he was glad to.
I showered alone.
Then waited for some time before he showed up in the room.
Tommy...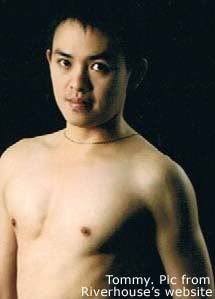 It was soon obvious that I had made a good choice.
Tommy demonstrated a variety of strokes including ....
(read more in Mack's Blog)
Thanks again Mack...
I have saved your Blog link as a favorite...
for more good reading..
tj